As with all things in Nature, the balanced cycle of nutrients determines the cycle of life.
The 5 "fundamental" elements sustaining all living things on earth are:
Carbon

Oxygen

Hydrogen

Nitrogen

Phosphorous.
There are, however, 94 elements that occur naturally and approximately 60 elements occurring in the human body, most of which have origins in our food, and therefore in our soils. Since the invention of Synthetic fertilizers, there has been a predominant focus on the Major Nutrients that are required by plants: Nitrogen (N), Phosphorus (P) and Potassium (K). Unfortunately, there was an underappreciation of the importance of the other 27 elements which are essential for Plant Health.
Every day new research is unlocking the importance of these minor and trace elements in plant and crop health, as well as in human health. If the elements are not available in sufficient quantities in the soil, then it is likely that they will be deficient in the plant. Therefore, it is essential that soils contain the required elements and in the required quantities.
When harvesting plant matter from our farms, we essentially remove these elements from the soil. Some Nutrients will be replenished through natural cycles, especially where soils are healthy, but others will be lost, and the soil becomes deficient.
Conversely, excesses of any element can be equally harmful. Often the overapplication of Synthetic Nitrogen will cause plants to grow too quickly, resulting in "soft growth" which makes the plant vulnerable to pests, diseases, and environmental stress. Excesses of other nutrients can block the absorption of other crucial compounds in a plant. Another common example of Nutrient toxicity is seen when farmers apply too much animal manure. Because the quantity applied is generally based on meeting the amount of Nitrogen desired, they can accidentally end up with too much such as Sodium & Phosphate. Excess Phosphate diminishes the absorption of Iron (Fe), Manganese (Mn) and Zinc (Zn) in the plant.
Talborne's s fertilizers do not contain any animal manure.
Understanding soil pH is also essential because if the soil is too acidic or alkaline, it prevents the uptake of certain nutrients, and it will affect the soil microbiome making the habitat more conducive to Bacteria that prefer a more alkaline condition or Fungi that prefer more acid conditions.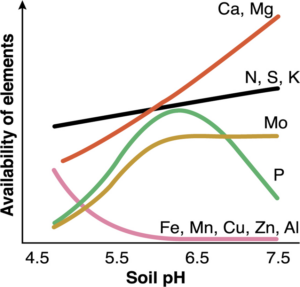 Every grower should aim to balance the nutrient requirements of the crop with the available nutrients in the ground, correcting deficiencies, and excesses. 
Soil, leaf, and sap analysis are wonderful tools to ensure this balance is achieved. Talborne strongly recommends that growers continuously monitor their soils and keep a record of their interventions to optimize the uptake of nutrients that their crop requires.
Fertilizer which does not supplement the soil's deficiencies to meet the crops' requirements or has too low levels of nutrients, means a compromised yield, poor quality, and wasted budget.
Too much fertilizer or the incorrect balance of nutrients for the crop is a waste of money and can even cause toxicity – again leading to poor yields and quality.